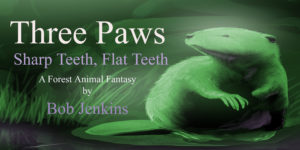 The  Audiobook version of "Three Paws" is now available at Amazon.com and iTunes.
Meghan Crawford, the narrator, has done a lovely, charming rendition of my book.   I hope you will give her work the attention it deserves.
The Audiobook runs just over an hour and downloads for $6.95.  You can purchase it in advance of my public announcement by going to:
and clicking on the purchase button.
There are several Five Star reviews of the print and kindle versions, but we need a few honest Audiobook reviews.   If you enjoy Audiobooks, or if you know youngsters who enjoy Audiobooks, please treat yourself and the kids to Meghan's sweet and tender treatment of "Three Paws."
Let me take a moment to tell you about Amazon.com reviews.  Here is Amazon's core statement:
"We don't allow anyone to write customer reviews as a form of promotion and if we find evidence that a customer was paid for a review, we'll remove it. If you have a direct or indirect financial interest in a product, or perceived to have a close personal relationship with its author or artist, we'll likely remove your review. We don't allow authors to submit customer reviews on their own books even when they disclose their identity."
Amazon.com is committed to publishing honest reviews.  Aren't we all?  Here are some of the rules that seem to be operating at present.  Note that the enforcement mechanisms of these rules evolve and change.
You do not have to purchase the book to leave a customer review, but Amazon has a category called "Verified Purchaser Reviews" that is probably more potent and credible.
You must have an Amazon.com account to leave customer reviews.  I have heard that you have to purchase at least $50 worth of merchandise to leave a review.  I'm not sure about this policy, the time frame (Past twelve months?  During the calendar year?) or even the amount.
Do not state or infer a personal relationship between you and the author, especially if he or she is a friend or family member.  Of course, the author's friends are apt to leave reviews; there is a fine line here.
Do not indicate that you received anything of value in exchange for your review.  The exception to this rule is that you may receive a free ARC (advance reader copy) of the book.  This is a perfectly acceptable practice.
Do not attempt to publish multiple reviews of the same book from the same computer.  A husband-and-wife duo used the same computer to write independent and honest reviews of one of my books.  Both reviews were deleted by Amazon.
That was interesting, wasn't it?
Meghan Crawford, narrator of "Three Paws."